BILLABONG TEAM RIDER DANE JOHNSON WINS JUNIOR PRO QUALIFIER
Association of Surfing Professional (ASP) Junior 2000 World Tour Event Sat July 8, 2000.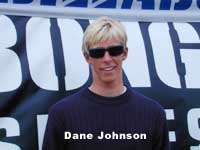 The first of four Billabong USA Junior Pro qualifying events was held at the prestigious location of Half Moon Bay in Northern California. A selection of California's hottest juniors entered the contest in the hopes of gaining an invitation to the Billabong Junior World Championships to be held on the west side of Oahu, Hawaii in early November.
While the surf did not reach the spectacular size of waves sometimes ridden at nearby Mavericks, Mother Ocean delivered consistent contestable 2'-3' glassy walls for the duration of the event. Cloudy skies gave way to unusually sunny weather, and spectators lined the green hillsides surrounding the crescent-shaped bay of this California State Park beach location that afforded a perfect view of the top notch surfing. It was the on edge vertical ripping of Carlsbad's Dane Johnson that prevailed, giving him first place over Shaun Burrell of Aptos in the final.
Three events on the USA Junior Tour remain before the World Champs; Outer Banks North Carolina Aug 14-16, T-Street San Clemente Sept 30-Oct 1, and Kewalos Honolulu Oct 7-8 or 14-15 if the surf's flat. Worldwide, the total value of the Billabong Junior 2000 World Tour events is in excess of US$120,000. Official Results of Billabong Junior Pro 2000
1st Dane Johnson (USA) US$1,500
2nd Shaun Burrell (USA) US$1,000
3rd Austin Ware (USA) US$700
4th Brian Conley (USA) US$500

BARLO'S DISPATCH

AUSTRALIAN JAKE PATERSON & HAWAIIAN MEGAN ABUBO WIN BILLABONG MSF PRO TITLES
Made it to SA relatively alive. J-bay beautiful but small surf. I've got a great view and a great place on the beach for $43 U.S a night. Surfed Boneyards last night just before sunset, half hour after enduring 24 grueling sleepless hours of boozy camraderie shared under duress with two ex-SADF Boers returning home after building armor-plated mine-clearing ATV's in Charleston for Unicef mine-removal missions in Mozambique and Bosnia. Fascinating obnoxious company who saw my desire not to drink at least 10 little bottles of Captain Morgan and instead finish the Mavericks book for review as both an affront to their hospitality and sign of latent homosexuality. After insulting the black flight attendant, telling the purser to fuck off and spilling his J&B down my pants the one called Fabes said "There's more to life then surfing and thet bleddy bukk, my boetie--you MUST learn to LIVE, I'm telling you!"

Jake the Snake in winning form. Pic: Tostee
Fuck them--they know nothing about Rat on a Stick or Christchurch girls. But a book to a drunk is a beer-stained passport to uncalled-for harrasment.
Anyway, after three days of flatness they're finally running round one in 3-4 foot on-the-point J-Bay. I'll send a clip later on.
In the meantime, here are some grab shots from over the last couple days, including the first round of the women's that was run at Boneyards.
Lekker! One Time!
Barlo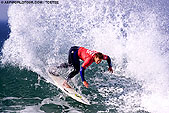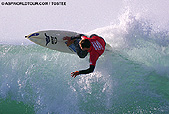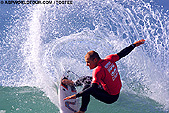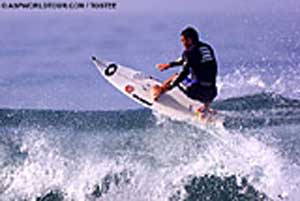 AUSTRALIAN JAKE PATERSON & HAWAIIAN MEGAN ABUBO WIN BILLABONG MSF PRO TITLES
Jeffreys Bay, South Africa (Friday, July 7, 2000). Australian Jake Paterson and Hawaiian Megan Abubo today won their respective divisions of the Billabong MSF Pro 2000. In 3-4 ft (1.5m) offshore conditions at Jeffreys, Paterson defeated Brazilian Person Rosa in the final, while Abubo beat Australian Trudy Todd in their 35-minute decider. Paterson, 27, surfed a total of four rounds today en-route to his second World Championship Tour (WCT) victory. The day started at 7:45am for the current world number-four, up against Hawaiian Shane Dorian in the last remaining fourth round heat. He then faced defending Billabong MSF Pro champion Joel Parkinson (Aus) in a repeat of their 1999 quarter-final. This time, however, the result went to Paterson, who then eliminated Brazilian Flavio Padaratz in the semi-finals, before taking out Rosa in the grand finale. "Oh Yeeaahhh," exclaimed an out-of-breath, but elated Paterson as he was carried up the beach by some of his fellow Australian competitors. "Give me a second to think about what just happened (he laughed). I'm so stoked. I just put everything together. The chess match is finally over; Check mate! I couldn't have asked for anything better. He had priority and was a little far out," Paterson elaborated in regard to his winning 9-point ride against Rosa. "I took off and raced a bit, then did a big hack (turn) before a little ledge came over and I knew it was make or break time. I just held my rail and came through. I'm stoked it went flat for 10-minutes at the end! I've had a shocker in the last three events," explained the Australian. "My consistency has just been up the creek, but I'm just stoked to get another win. I haven't had one since Pipe (1998 Pipeline Masters in Hawaii). To win a WCT is just insane." Rosa, 25, unfortunately didn't find any waves during the second half of the final, but was still very happy with his second placing. The result pushes the Brazilian up into sixth position on the adjusted WCT ratings.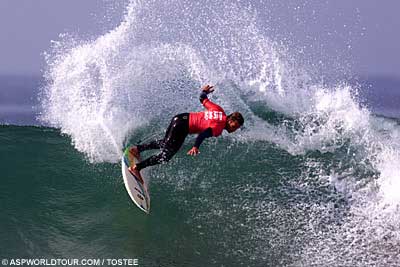 Finishing equal third in the men's division today were Australian Nathan Webster and Brazilian Flavio Padaratz. Webster, the world number-10, was at his best in the long right-handers, but was unable to match Rosa's barrel ride in their semi-final.
Defending Billabong MSF Pro champion Joel Parkinson (Aus) finished equal fifth today when he lost to Paterson. The 19-year-old wildcard now plans to focus on the World Qualifying Series (WQS) for the remainder of the year, so he can officially join the WCT in 2001. "I just blew it, had a shocker and kooked it," Parkinson explained. "I got the wave to win the heat on, but it just felt so bumpy I couldn't even do a turn. But these guys are good at it. " The highest scoring heat of the day was between Webster and world number-two Luke Egan (Aus). Egan took a stranglehold early on, but a string of high scoring rides from Webster in the final 12-minutes, including a 9.50 out-of-a-possible 10-points, swung the win his way. "That heat was definitely one of the best heats I've ever had in my career," Webster explained. "I was so behind, needing a combination with 12-minutes to go, so coming back with two strong waves. I was stoked with how that went."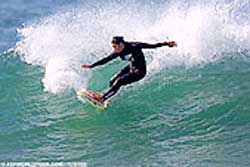 ABUBO CARVING. PIC: TOSTEE
ABUBO EXTENDS HER RATINGS LEAD WITH BILLABONG MSF PRO TITLE Hawaiian Megan Abubo today extended the ratings lead she secured this event by 380-points when she claimed her second WCT victory for the year. Up against the 1998 Billabong MSF Pro champion Trudy Todd, the 22-year-old Hawaiian overcame the bumpy conditions to pull off some solid maneuvers. "It was really hard to surf out there," said a triumphant Abubo after being greeted by friends on the shoreline. "I was just trying to catch a wave I could do a turn on without the wind blowing me off. The guys are a lot heavier and they're stronger, so they made it look a little easier while I was psyching up watching them. Once I got out there, though, it was really tough. There were a lot of bumps and we were surfing right over the rocks, too, so there were a lot of difficulties. I wasn't stressing at all, I just wanted to get one good wave in the heat. It didn't really happen, but I was just happy to be in the final out here." Todd, 25, was disappointed with conditions in the final, but happy with her best result of the season so far. "It's not really the conditions I like to surf," said Todd. "I would have like to surf it with easier conditions and less wind, hopefully get a couple of barrels, but it wasn't to be today. Megan surfed well and congratulations to her. Second place is good. There's only one better and I couldn't have that today."
On an environmental front, a handful of surfers donated 5,000 Rand (US$600 approx.) today to the Western Cape Nature Conservation to help the plight of African ÎJackassâ penguins hit by the recent oil spill off Cape Town two weeks ago.
Official Results of Billabong MSF Pro Final Day Men's Final 1st J Paterson (Aus) 23.50 def. 2nd P Rosa (Brz) 15.50 Women's Final 1st M Abubo (Haw) 15.15 def. 2nd T Todd (Aus) 10.75 Menâ Semi-Finals SF1: P Rosa (Brz) 21.75 def. N Webster (Aus) 19.50 SF2: J Paterson (Aus) 19.30 def. F Padaratz (Brz) 18.60 Quarter-Finals QF1: N Webster (Aus) 25.25 def. L Egan (Aus) 22.90 QF2: P Rosa (Brz) 19.75 def. R Lovett (Aus) 16.50 QF3: F Padaratz (Brz) 17.85 def. D Hobgood (USA) 16.50 QF4: J Paterson (Aus) 20.15 def. J Parkinson (Aus) 19.25 Round Four Heat 8: J Paterson (Aus) 19.60 def. S Dorian (Haw) 14.00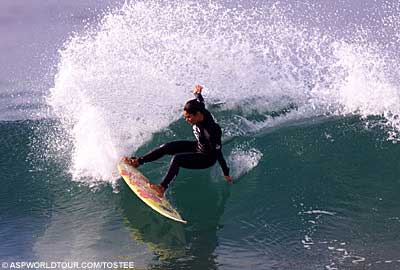 Go to top