ROB MACHADO WINS EVENT OVER ARMANDO DALTRO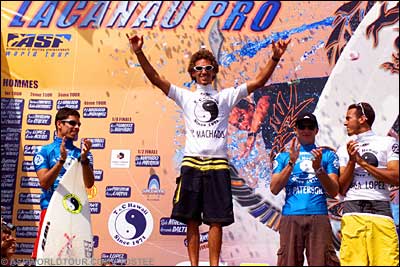 Lacanau, France (Sunday, Aug 20, 2000). Rob Machado (USA) today claimed his first World Championship Tour (WCT) victory in three years, defeating Brazilian Armando Daltro in the final of the TC Lacanau Pro. With conditions extremely testing and only 1-2 foot, both gifted small-wave surfers put on a great show considering.
Machado, 26, dominated the 35-minute final from the onset, even managing to score an 8.50 in the diminutive surf. The former world number-two (1995) is widely regarded higher than his Association of Surfing Professionals (ASP) rating has suggested over recent years, but today's win shot him back toward the top into sixth position (from 15th).
"It wasn't easy, conditions were tough," said a slightly out-of-breath, but elated Machado on the water's edge afterward. "I had to be really selective for waves. I knew I wanted to go right and keep it on my backside, and that's what I did and it worked out really good... stoked! It's been awhile, it's nice to win. It feels really good, I'm happy.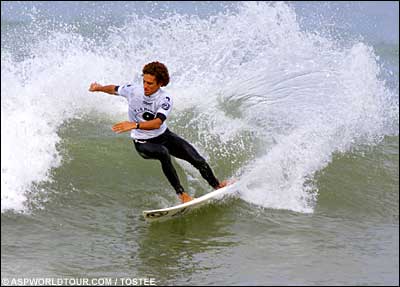 Interesting to note, Machado's previous two WCT wins were also in France (1997 & '95), at the same location of next week's Hossegor Rip Curl Pro.
"It's hard to win a WCT, there are a lot of really good surfers," he reasoned. "You've got to have a lot of faith in your boards, in yourself, and trust in what you've got and just go with that. I've been watching him (Armando) all week and he's been surfing really well, he's beaten some really tough opponents. I'm stoked for him to make it to the final. I like his surfing."
For Daltro, 26, today's result marks his best to-date during seven years on tour. Previously he had finished third in Japan last year, also being defeated by Machado. On the World Qualifying Series (WQS), however, the Brazilian has excelled and currently leads those ratings, while he is now 18th on the WCT.
"I knew Rob is very hard to beat in conditions like this, I think he's one of the best surfers in these kinds of waves," Daltro said after the final. "He did stronger maneuver and went well, so congratulations to him. I just tried to pick up good waves and find right-handers. It's OK, second place is very good for me. I'm very happy. For the first time my parents came to see me in an event like this and it made me very lucky.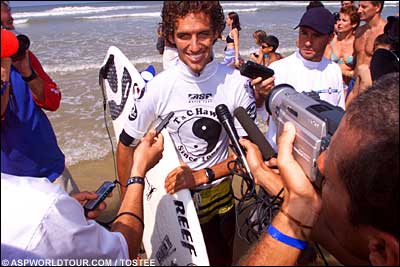 "This is the second year I've been in front on the WQS ratings," he explained. "Last year I didn't have good luck because I broke my arm in Brazil near the end, but this year I hope to arrive in Hawaii at the end of the year in front and maybe finish number one on the WQS. I hope I can get more good results in the next few WCT events too."
Finishing equal third today was Jake Paterson (Aus) and Shea Lopez (USA). Paterson's run ended by Machado, while Lopez failed to match the scoring of Daltro. For the Australian, the result has moved him into fourth on the ratings and well-within striking distance of current rating's leader Sunny Garcia (Haw).
"I made a crucial mistake paddling for a wave I thought was going to be good, but it didn't break and I lost priority to Rob and then he got the wave of the heat," explained Paterson after his semi-final. "That cost me the heat. He's just really good in small waves too, so he can make good scores out of nothing."
Lopez, now rated 14th, collected his best result for the year, though was disappointed with the conditions they were forced to contest.
"I'm happy with third, it's my best result of the year," he said. "It's just a bummer the waves dropped out on us. It really sucks we didn't finish the event yesterday when the waves were 3-4 foot and now we're in 1-foot mush. I was groveling out there and I hate groveling. Hopefully the next few events in Europe have better surf than today."
Official Results of TC Lacanau Pro Final Day
Final
1st Rob Machado (USA) 20.85 def. 2nd Armando Daltro (Brz) 17.00
Semi-Finals
SF 1: R Machado (USA) 20.20 def. J Paterson (Aus) 12.00
SF 2: A Daltro (Brz) 19.50 def. S Lopez (USA) 17.70
Current Top-10 Rated WCT Surfers
1. S Garcia (Haw) 4970-points
2. L Egan (Aus) 4230
3. M Campbell (Aus) 4020
4. J Paterson (Aus), C Lopez (USA) 3870
6. R Machado (USA) 3650
7. F Padaratz (Brz) 3630
8. N Webster (Aus) 3610
9. S Dorian (Haw) 3510
10. P Rosa (Brz) 3470