BLUETORCH PRO(JULY 19-23)
DAY 5--AUSSIE CAMPBELL DEFEATS--AND ANGERS--CURRENT RATINGS LEADER SUNNY GARCIA IN MEN'S FINAL
Hawaiian "bitter" about comments made by Aussie.
Association of Surfing Professional (ASP)
2000 World Championship Tour (WCT)
Photos courtesy ASPlive.com and tostee.com.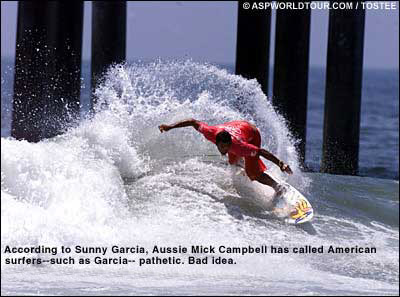 Huntington Beach, California (Sunday, July 23, 2000). World number-five surfer Mick Campbell (Aus) today defeated current rating's leader Sunny Garcia (Haw) in the final at HB pier to collect US$15,000 and 1000 ratings points. In 2-3 foot (1m) average conditions at Huntington, the 26-year-old Australian surfed a separate section of the beach further south of Garcia, a decision that eventually earned him his second victory in five years on the World Championship Tour (WCT).
Garcia, 30, further extended his rating's lead with today's second place finish, moving closer to that elusive world title he has been chasing throughout his 14-year career. Still, the Hawaiian had plenty to say when he returned to beach in regard to his Australian opponent.
"I'm bitter right now as I would have liked to have won," he started off. "Excuse me for being bitter, but I lost to a surfer that I feel is insignificant compared to me.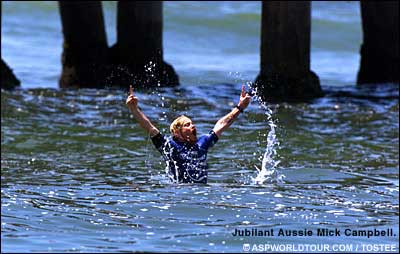 "I made some mistakes on a couple of waves that would have made the difference," Garcia elaborated. "Mick went out and did what he does best. He caught four waves and tapped it to the beach. To sit here and try to rack my brain on what went wrong is just a waste of my time. I'm still leading the tour and I gained some points on everybody, so I came and did exactly what I needed to do. I needed to get past the ninth (place) round and to make the final was great. I'm just disappointed to lose to Mick. I'm more upset because just prior to this event in an Australian magazine Mick had said he thought all American surfers were pathetic. To say all Americans are pathetic is to say that I'm pathetic. I saw him at Pipe (Pipeline Masters event in Hawaii) the other year and if you want to talk about pathetic.... If we're all pathetic, I sure would hate to see what he sees when he looks in the mirror. To lose to somebody like Mick is a bit hard to swallow as far as I'm concerned."
Campbell, who finished runner-up to six-time world champion Kelly Slater (USA) in the 1998 world title race, has now jumped all the way from 12th on the adjusted ratings up into the number-four position. En-route to the final today, he first beat American Tim Curran in the quarter-finals, before eliminating defending event champion Neco Padaratz (Brz) in the semi's.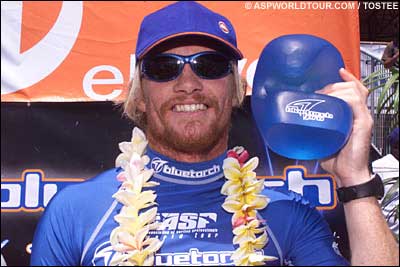 "I knew it was going to be a long day, so I got up really early and came down here to check it out and work out my game plan," said an ecstatic Campbell after exiting the water and being congratulated by his Aussie mates. "It's come off and I'm stoked. I really wanted to win that one. Last time in the final here I finished second (behind Andy Irons in 1998), so it was good to make a final and win.
"I'm not really sure of the ratings right now, all I want is a beer," he laughed when asked about his new position. "We're going to be going mad tonight!
Later, on stage to accept his trophy, he added: "I'd like to dedicate this win to a good friend of mine who passed away named Andrew Murphy. This is for you 'Murph', rest in peace."
On stage the crowd favourite Garcia was more contained, saying: "I was really happy to make the final, but I'm disappointed I let everyone down. I wanted to win it for America, but thanks for coming down and supporting me."
Finishing equal third today were Cory Lopez (USA) and defending event champion Neco Padaratz (Brz). Lopez is now rated third in the world after narrowly losing to Garcia in the first semi-final.
"Sunny just got lucky with the best wave right at the start - an eight," explained the American. "There wasn't any other wave that big for the rest of the heat. It was really slow for a while and took me some time to get going. It ended up right down to the wire on my last wave. Unfortunately the wave didn't do much. I take my hat off to Sunny, though. He's a great surfer and this is his year. I'm stoked with third, but it just hurts because I've finished third twice this year now and I'd like to make a final."
The next World Championship Tour (WCT) event takes place in Lacanau, France, for the TC Lacanau Pro (Aug 15-21).

Official Results of Final Day
Men' Final
M Campbell (Aus) 19.60 def. S Garcia (Haw) 19.00
Semi-Finals
SF1: S Garcia (Haw) 18.60 def. C Lopez (USA) 18.35
SF2: M Campbell (Aus) 20.75 def N Padaratz (Brz) 19.65
Quarter-Finals
QF1: C Lopez (USA) 19.25 def. N Webster (Aus) 15.35
QF2: S Garcia (Haw) 22.00 def. K Robb (Haw) 18.50
QF3: M Campbell (Aus) 18.00 def. T Curran (USA) 16.95
QF4: N Padaratz (Brz) 19.25 def. R Machado (USA) 18.8

Current Top 16 Ratings After Event #6
1. S Garcia (Haw) 4360
2. L Egan (Aus) 3730
3. C Lopez (USA) 3470
4. M Campbell (Aus) 3410
5. F Padaratz (Brz) 3390
6. N Webster (Aus) 3210
7. J Paterson (Aus) 3140
8. P Rosa (Brz) 3070
9. S Dorian (Haw) 3010
10. G Herdy (Brz) 2960
11. T Burrow (Aus) 2900
12. M Occhilupo (Aus) 2880
13. CJ Hobgood (USA) 2770
14. D Hobgood (USA) 2760
15. R Machado (USA) 2650
16. L Hitchings (Aus) 2560