BLUETORCH PRO(JULY 19-23)
DAY 4--CURRENT TWO-TIME WORLD CHAMPION LAYNE BEACHLEY WINS ELLEVEN PRO TO REGAIN RATING'S TOP SPOT
Association of Surfing Professional (ASP)
2000 World Championship Tour (WCT)
Photos courtesy ASPlive.com and tostee.com.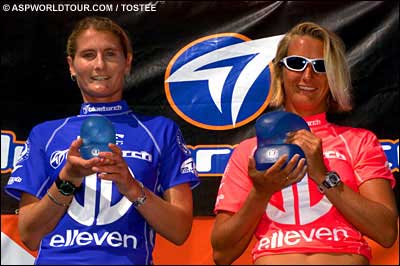 Huntington Beach, California (Saturday, July 22, 2000). Current two-time world champion Layne Beachley (Aus) today took out her third World Championship Tour (WCT) title at Huntington Beach, defeating fellow Australian Melanie Redman in the final of the Elleven Pro Women's event. In doing so, she re-claimed the rating's lead back from Hawaiian Megan Abubo after being passed two weeks in South Africa.
Beachley, who won this event in 1998 and '96, used the same surfboard today as she did to win the 2000 season's opening tournament (Billabong Pro) in Australia. In-between her two wins, the 28-year-old finished fifth in three consecutive events. Today, however, with the beach packed full of spectators, the world champ completely dominated the last day of competition in 3-foot (1m) conditions.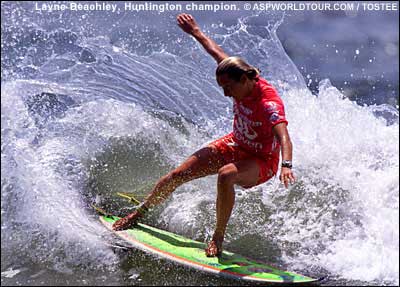 "I knew the conditions were deteriorating due to the high tide, so I figured the more waves I caught at the beginning the less catching up I would have to do toward the end," explained a relieved Beachley. "Melanie just couldn't find a wave. In fact, neither of us could find a wave toward the end, so it was lucky I got a few at the start.
"I was feeling really confident," she continued. "I don't think I was surfing as well in the final as I did in the semi-final, but then the waves didn't really offer that kind of face. It was a little more difficult, but I still felt really strong and comfortable. I felt like I wasn't able to be beaten, but I knew Melanie had the ability, so I had to keep my eyes on her.
"I really wasn't concentrating on the ratings the whole event," Beachley said. "I was just concentrating on getting myself back into the winner's circle, which I haven't experienced since March, and I was starting to get really frustrated with placing fifth. I'm just feeling really good and gaining my momentum as the year is coming to the end of it. I'm really stoked that I've gotten back into number-one position and I hope to maintain it."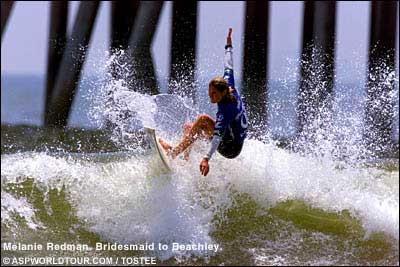 Redman, the world number-four, was unfortunate not to catch any good waves during the final, but considering it was her first appearance in one (WCT) this season, the second place result has improved her current standing from 10th, up into seventh position on the ratings.
"Layne was all over it," admitted Redman afterward. "Two of the good rides she got I sort of gave to her. I had priority, but I just blew it. I did have opportunities, but I didn't utilize them. I'm stoked, though, I've been surfing here all week and to make the final is good."

GARCIA BREAKS FOURTH ROUND CURSE TO ADVANCE TO QUARTER-FINALS
Huntington Beach, California (Saturday, July 22, 2000). Current rating's leader Sunny Garcia (Haw) today broke the string of ninth place finishes he has encountered the past three World Championship Tour (WCT) events, eliminating American Shane Beschen in a nail-biting fourth round clash. Beschen took an early lead and was surfing great, but a rare barrel ride from Garcia toward the end earned him 7.75-points and swung the lead his way. In the final minutes both surfers caught additional waves, but their scores had no effect on the outcome.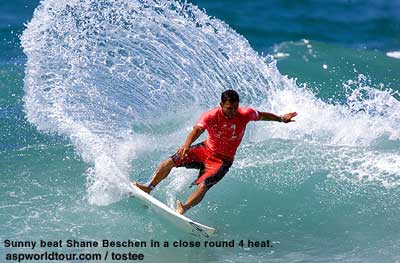 "I was nervous all day knowing I had Beschen and I went out and surfed pretty nervously," admitted Garcia afterward. "I made a couple of mistakes and needed a score, then in the middle of the heat a right-hand peak came which looked perfect, but when I went to bottom turn I slipped. I thought that was the end of it, but I put my head down and took a couple of deep breaths and told myself I still had 10-minutes and could get three waves. Fortunately I got a good barrel and they (the judges) gave me a good score. That was kind of the end of it. Beschen got a good wave at the end and made it close, but at the end of the heat it just wasn't enough. I thought they were going to give him more, but luckily for me no more waves came in.
"Now that I got past the ninth I feel a lot more comfortable and won't be surfing as nervous," he reasoned. "I think I've got Kalani (Robb) now, so hopefully I'll have a good heat and kick his young butt."
Current world number-two Luke Egan (Aus) wasn't as fortunate in the next heat, however, being eliminated by American Tim Curran. Curran, the world number-six, dominated the 25-minute clash from the onset, racking up two solid scoring rides, as well as landing a big aerial maneuver.
"I've looked up to Luke since I was a little kid," explained 22-year-old Curran. "I knew I had to be patient out there. I would have liked to have beaten him in perfect waves at a place like Tavarua (Fiji), but I feel good.
"I knew I had to do something big," he said in regard to the aerial, a move judges are rewarding more under the new criteria that was implemented at the start of the 2000 season. "Surfing is changing and progressing, so we had to look at it and change the way we judge surfing. Everyone's doing airs these days, even the older guys."

Official Results
Men's Round Four
Heat 1: N Webster (Aus) 17.25 def. B Emerton (Aus) 15.05
Heat 2: C Lopez (USA) 18.00 def. S Lopez (USA) 17.65
Heat 3: K Robb (Haw) 18.90 def. F Gouveia (Brz) 17.10
Heat 4: S Garcia (Haw) 19.80 def. S Beschen (USA) 19.00
Heat 5: T Curran (USA) 16.75 def. L Egan (Aus) 12.50
Heat 6: M Campbell (Aus) 19.15 def. CJ Hobgood (USA) 18.40
Heat 7: R Machado (USA) 20.60 def. A Irons (Haw) 17.85
Heat 8: N Padaratz (Brz) 15.80 def. T Prestage (Aus) 13.25